CATERING COMPANY
847.432.6393 or 847.732.6393 or
www.thebbqpit.net
Welcome to The BBQ Pit Catering Company. For 35 years, "The Pit" has been catering outdoor events ranging from graduation parties, work picnics, corporate catering, pre-nuptual parties and just plain old "I don't feel like cooking parties"!!
With one week's notice except during graduation weeks and July 4th week, we can be up and running at any location of your choosing...backyards, forest preserves, work sites, parks etc.......
Any party that has a minimum of 60 people qualifies us to come to your site and cook. Any number less than 60 will have food delivered, set up with warming trays, utensils and the like. All items are disposable and recyclable. Pricing for cooking on premise...$125.00/hour. Once entering into a new hour nearing the end of event, pricing is charged per half hour.
A 50% non refundable deposit is required to hold your party. Please have a "Plan B" in case of inclement weather. All prices are based on per person. Tax, Delivery or Hourly Cooking charges will not be included in the per person price. We accept Cash, Company Check or Credit card. Credit card purchases will have a 3% convenience fee added to the bill. We ask that you take responsibility for gratuity in that your cooks and delivery staff will put forth 110% in either setting up and/or cooking and serving your event.

Butler at your Service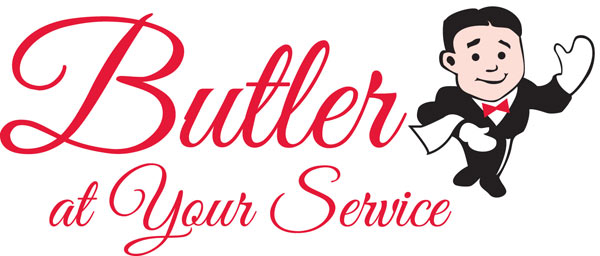 Click for flyer

Catering Menu
Prices reflect a 30 person minimum.
BBQ Ribs Full Slab $18.00
BBQ Half Chicken $9.00
BBQ Pork Chops (2) $18.00
BBQ Boneless Chicken Breast 12 oz. $10.00
BBQ Chicken Breast Sandwich $6.00
BBQ Hot Links $8.00
BBQ Brisket Sandwich $8.00
BBQ Pull Pork $8.00
BBQ Brisket Entree $15.00
Skirt Steak 20 oz. $20.00
Turkey Drumstick $7.00
Hamburger 8 oz. $6.00
Jumbo Wings Buffalo or BBQ $8.00


Sides
Cole Slaw $1.00
Potato Salad $1.00
Macaroni Salad $1.00
Cold Green Bean Salad $1.50
Baked Beans $1.00
Corn on the Cob (2 per) $3.50
Greek Salad $4.00
Caesar Salad $4.00
Tossed Salad $2.00
Fresh Fruit Salad $4.00
Baked Potato $3.00
Baked Sweet Potato $3.00
Potato Chips $1.00


Sweets
Homemade Apple Pie (Whole) serves 8 $18.00
Homemade Chocolate Cake (Whole) serves 12 $36.00
Assorted Cookies $1.75/per person
Cheesecake Plain (Whole) serves 12 $25.00
Strawberry Cheescake (Whole) serves 12 $28.00

Drinks
Soda $1.50 per can
Water $1.00 per bottle
Beer and Wine : inquire within.
PRICES SUBJECT TO CHANGE